Vinales Mendominasi Latihan Pertama GP Qatar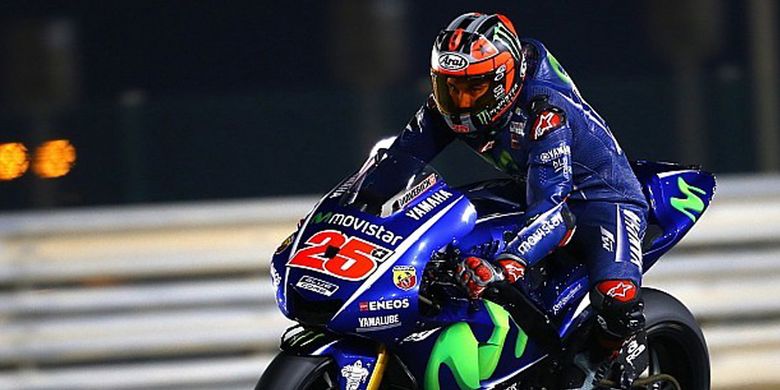 Qatar, KompasOtomotif –  Maverick Vinales (Movistar Yamaha) tembus menjadi pebalap tercepat dalam sesi latihan bebas pertama GP Qatar di Sirkuit Losail, Kamis (23/3/2017). Pebalap asal Spanyol ini berhasil mencatatkan waktu 1 menit 54,316 detik jelang seri perdana MotoGP 2017.
Perolehan waktu tersebut membuatnya menempati urutan pertama, dan meningalkan Mantan juara dunia MotoGP 2016, Marc Marquez, yang hanya berhasil mencetak waktu 1 menit 54.912 detik.
???? #MotoGP FP1

There's still no stopping this guy so far in 2017… @maverickmack25 fastest!#QatarGP pic.twitter.com/QkMjA4CE8E

— MotoGP™ (@MotoGP) 23 Maret 2017
Vinales tampil gemilang dan terlihat begitu menguasai lintasan. Bahkan ia berhasil meninggalkan rekan satu timnya, Valenttino Rossi, pada posisi kesembilan dengan catatan waktu 1 menit 55.799 detik
Sesi pertama latihan bebas diwarnai beberapa drama. Mulai dari Cal Cruthclow dari LCR Honda yang arus berhenti akibat permasalahan mesin, sampai aksi jatuhnya Sam Lowes dari Aprilia pada tikungan sembilan.
Sparks fly for the first time this season as @SamLowes22 slides into the gravel! #RiderOK #QatarGP ???????????????????????????? pic.twitter.com/ut4cQwJ6ot

— MotoGP™ (@MotoGP) 23 Maret 2017
Dani Pedrosa (Repsol Honda) duduk diurutan ketiga setelah berhasil membuntuti Marquez. Sedangkan posisi keempat diisi oleh pebalap Monster Yamaha, Jonas Folger, yang kemudian disusul Jorge Lorenzo (Ducati) di posisi kelima dengan waktu 1 menit 55.624 detik.
Hasil latihan bebas pertama GP Qatar ;
1.    Maverick Viñales    ESP Movistar Yamaha MotoGP (YZR-M1)    1m 54.316s [Lap 17/18]    335km/h (Top Speed)
2.    Marc Marquez    ESP Repsol Honda Team (RC213V)    1m 54.912s +0.596s    [17/18]    338km/h
3.    Dani Pedrosa    ESP Repsol Honda Team (RC213V)    1m 55.210s +0.894s    [15/16]    338km/h
4.    Jonas Folger    GER Monster Yamaha Tech 3 (YZR-M1)*    1m 55.587s +1.271s    [15/15]    333km/h
5.    Jorge Lorenzo    ESP Ducati Team (Desmosedici GP17)    1m 55.607s +1.291s    [15/17]    343km/h
6.    Loris Baz    FRA Reale Avintia Racing (Desmosedici GP15)    1m 55.624s +1.308s    [16/16]    334km/h
7.    Cal Crutchlow    GBR LCR Honda (RC213V)    1m 55.639s +1.323s    [15/15]    334km/h
8.    Johann Zarco    FRA Monster Yamaha Tech 3 (YZR-M1)*    1m 55.792s +1.476s    [17/18]    334km/h
9.    Valentino Rossi    ITA Movistar Yamaha MotoGP (YZR-M1)    1m 55.799s +1.483s    [18/18]    340km/h
10.    Aleix Espargaro    ESP Factory Aprilia Gresini (RS-GP)    1m 55.872s +1.556s    [14/15]    332km/h
11.    Andrea Dovizioso    ITA Ducati Team (Desmosedici GP17)    1m 55.873s +1.557s    [5/17]    343km/h
12.    Scott Redding    GBR Octo Pramac Racing (Desmosedici GP16)    1m 56.000s +1.684s    [16/16]    340km/h
13.    Andrea Iannone    ITA Team Suzuki Ecstar (GSX-RR)    1m 56.027s +1.711s    [16/17]    335km/h
14.    Alvaro Bautista    ESP Aspar MotoGP Team (Desmosedici GP16)    1m 56.128s +1.812s    [17/19]    344km/h
15.    Karel Abraham    CZE Aspar MotoGP Team (Desmosedici GP15)    1m 56.399s +2.083s    [14/14]    338km/h
16.    Danilo Petrucci    ITA Octo Pramac Racing (Desmosedici GP17)    1m 56.419s +2.103s    [8/15]    342km/h
17.    Jack Miller    AUS Estrella Galicia 0,0 Marc VDS (RC213V)    1m 56.453s +2.137s    [10/16]    335km/h
18.    Alex Rins    ESP Team Suzuki Ecstar (GSX-RR)*    1m 56.502s +2.186s    [15/16]    335km/h
19.    Tito Rabat    ESP Estrella Galicia 0,0 Marc VDS (RC213V)    1m 56.725s +2.409s    [17/18]    336km/h
20.    Hector Barbera    ESP Reale Avintia Racing (Desmosedici GP16)    1m 56.725s +2.409s    [13/14]    342km/h
21.    Pol Espargaro    ESP Red Bull KTM Factory Racing (RC16)    1m 57.630s +3.314s    [11/16]    335km/h
22.    Sam Lowes    GBR Factory Aprilia Gresini (RS-GP)*    1m 57.887s +3.571s    [12/14]    331km/h
23.    Bradley Smith    GBR Red Bull KTM Factory Racing (RC16)    1m 58.114s +3.798s    [17/17]    333km/h
Sumber: