Hamilton Dan Mercedes Kuasai Hari Pertama GP Australia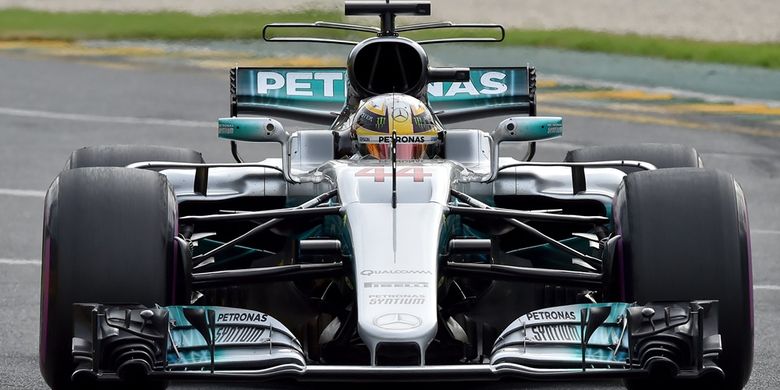 MELBOURNE, KOMPAS.com – Pebalap Inggris, Lewis Hamilton, membawa Mercedes berjaya pada hari pertama GP Australia di Sirkuit Melbourne Grand Prix, Albert Park, Jumat (24/3/2017).
Hamilton mencatat putaran tercepat pada sesi latihan pertama dan kedua yang masing-masing berdurasi 90 menit.
Pada sesi pertama yang berlangsung Jumat pagi WIB, dia mencatat putaran terbaik 1 menit 24,220 detik. Pada sesi kedua, putaran terbaiknya adalah 1 menit 23,620 detik.
Pada sesi pertama, Mercedes mendominasi menyusul keberhasilan Valtteri Bottas (Finlandia) menjadi pebalap tercepat kedua.
FP1 REPORT: @MercedesAMGF1 on top in Melbourne – but they're the only team to use ultrasofts in #FP1 ???? ?? #AusGP https://t.co/Lb0N5e5Ea8

— Formula 1 (@F1) March 24, 2017
Sebastian Vettel (Ferrari) berada di urutan keenam tercepat pada sesi pagi. Pada sesi kedua, dia berhasil menyodok ke urutan kedua berkat putaran 1 menit 24,167 detik.
Berikut hasil sesi latihan bebas pertama dan kedua GP Australia.
Latihan Pertama
1. Lewis Hamilton    GBR Mercedes – Mercedes    1m 24.220s
2. Valtteri Bottas    FIN Mercedes – Mercedes    1m 24.803s
3. Daniel Ricciardo AUS Red Bull – TAG    1m 24.886s
4. Max Verstappen NED Red Bull – TAG    1m 25.246s
5. Kimi Raikkonen    FIN Ferrari – Ferrari    1m 25.372s
6. Sebastian Vettel    GER Ferrari – Ferrari    1m 25.464s
7. Felipe Massa    BRA Williams – Mercedes    1m 26.142s
8. Romain Grosjean FRA Haas-Ferrari    1m 26.168s
9. Nico Hulkenberg    GER Renault – Renault    1m 26.183s
10. Sergio Perez    MEX Force India-Mercedes    1m 26.276s
11. Carlos Sainz    ESP Toro Rosso-Renault    1m 26.450s
12. Daniil Kvyat    RUS Toro Rosso-Renault    1m 26.514s
13. Lance Stroll    CAN Williams – Mercedes    1m 26.734s
14. Fernando Alonso    ESP McLaren-Honda    1m 27.116s
15. Marcus Ericsson    SWE Sauber – Ferrari    1m 27.348s
16. Esteban Ocon    FRA Force India-Mercedes    1m 27.656s
17. Kevin Magnussen DEN Haas-Ferrari    1m 27.667s
18. Pascal Wehrlein    GER Sauber – Ferrari    1m 28.539s
19. Jolyon Palmer    GBR Renault – Renault    1m 28.585s
20. Stoffel Vandoorne    BEL McLaren-Honda    1m 28.815s
Latihan Kedua
1. Lewis Hamilton    GBR Mercedes – Mercedes    1m 23.620s
2. Sebastian Vettel    GER Ferrari – Ferrari    1m 24.167s
3. Valtteri Bottas    FIN Mercedes – Mercedes    1m 24.176s
4. Kimi Raikkonen    FIN Ferrari – Ferrari    1m 24.525s
5. Daniel Ricciardo AUS Red Bull – TAG    1m 24.650s
6. Max Verstappen NED Red Bull – TAG    1m 25.013s
7. Carlos Sainz    ESP Toro Rosso-Renault    1m 25.084s
8. Romain Grosjean FRA Haas-Ferrari    1m 25.436s
9. Nico Hulkenberg    GER Renault – Renault    1m 25.478s
10. Daniil Kvyat    RUS Toro Rosso-Renault    1m 25.493s
11. Sergio Perez    MEX Force India-Mercedes    1m 25.591s
12. Fernando Alonso    ESP McLaren-Honda    1m 26.000s
13. Esteban Ocon    FRA Force India-Mercedes    1m 26.145s
14. Felipe Massa    BRA Williams – Mercedes    1m 26.331s
15. Marcus Ericsson    SWE Sauber – Ferrari    1m 26.498s
16. Lance Stroll    CAN Williams – Mercedes    1m 26.525s
17. Stoffel Vandoorne    BEL McLaren-Honda    1m 26.608s
18. Pascal Wehrlein    GER Sauber – Ferrari    1m 26.919s
19. Kevin Magnussen DEN Haas-Ferrari    1m 27.279s
20. Jolyon Palmer    GBR Renault – Renault    1m 27.549s
Sumber: